Chamomile tea is a popular herbal tea that's used to help ease anxiety. Researchers are interested in testing the long term effects of this herb and how it's used to treat anxiety, but unfortunately there have not been enough studies.
Something a lot of people who drink chamomile tea, or are interested in adding a cup to their evenings, is how long does it actually take for chamomile tea to work for calming anxiety symptoms?
For myself, it happens anywhere from 30 minutes to an 1.5 hours. I think it probably differs from person to person. You'd just have to try it yourself to see! But before you do, keep reading to find the do's and don'ts of chamomile to see if it's right for you!
What is Chamomile
Chamomile is a flower of the daisy family. It's a traditional folk remedy to treat stress, anxiety, help as a sleep aid and even soothe upset stomachs. There are two different variations of chamomile that you may come across. Roman (Chamaemelum nobile or Anthemis nobilis) and German (Matricaria recutita or Chamomilla recutita). And although they're more rarely found in the US, there is also Egyptian and Moroccan chamomile. German chamomile is what you'll find more commonly, though there are very slight differences between the two.
What you'll find in common between both of them though is a compound called chamazulene. This is what helps to alleviate irritation, and boosts tranquility and restoration. You'll also find a flavanoid called apigenin. This functions as an anti-inflammatory and in larger amounts can be sedative.
Benefits of Chamomile
Chamomile has been used for centuries from Egypt to Greece to Rome as a medicinal phenomenon. Though there are many benefits from using chamomile, it is most people are wanting it to help get better sleep and to help reduce anxiety.
Acts As A Sleep Aid
The most popular use of chamomile is as a sleep aid. That's the apigenin kicking in! Though there aren't enough studies to prove that chamomile 100% helps with sleep, it certainly couldn't hurt to try it.

Helps With Anxiety & Depression
Part of the reason it works as a sleep aid is that it may be reducing your stress and anxiety! Researchers did a study in 2017 on GAD (generalized anxiety disorder) and found that after two months about 58% of people had reduced anxiety symptoms!
If you suffer from morning anxiety *raises hand* it could be from low levels of cortisol. Chamomile has also been known to increase these hormone levels and could help alleviate morning anxiety.
Anxiety and depression typically go hand-in-hand. Researchers also saw reduced depression in studies of people who too chamomile over an eight-week period.
How to Take Chamomile
The most popular way you've probably thought of using chamomile is by drinking chamomile tea. This is typically how I use chamomile and especially since cooler weather is approaching and the days are getting shorter. I always find myself drinking more tea this time of year.
But drinking chamomile tea is not the only way to take it! Many people use capsules, extracts, tinctures and topicals as well.
Here is a little guideline on how much you should be taking for reach:
Tea: 1 – 4 cups a day
Capsules: 400 – 1600mg spread throughout the day
Extracts: 1 – 4ml 3x's daily
Tincture: 15ml 3 to 4x's daily
Topicals: As needed
Can Drinking Chamomile Just Be A Placebo Effect?
One doctor suggested in an interview that just the act of preparing and sipping hot tea could have calming effects on people. I can definitely see where this piqued his interest. I love the relaxing feeling of brewing an afternoon or evening tea to wind down from the day. There's nothing like a warm cup in my hands as I wiggle down under a cozy blanket. It's a form of self-care for me to say goodbye to any worries of the day and ground myself in the moment. I drink a lot of Yogi tea's↗ that have little inspiring quotes on the tag. This also helps me to reflect on the day and how I can end it positively by reflecting on those few encouraging words.
However, studies showed that chamomile has many other factors that are true benefits and it's not just a placebo effect.

Who Should Avoid Chamomile
Disclaimer: I am not a doctor and you should consult your doctor with any medical concerns.
Chamomile is in the daisy family and if you are allergic to daisies, sunflowers, dandelions, marigolds, thistle, ragweed and other plants in the Asteraceae family, you might want to check with your doctor or allergists become consuming or applying chamomile topicals.
Additionally, it has not been tested on pregnant or nursing person and may have negative interactions with prescription medications.
It's also been known to cause vomiting if taken in larger than recommended amounts.
Start Your Mental Health Journey
Even though chamomile tea has been known to help reduce symptoms of anxiety, stress and depression, it's not a cure all. Therapy has helped me tremendously. I'm not saying I don't still have anxious moments, but it's given me the tools and methods on how to overcome those moments more rationally instead of sitting with them and letting them take over.
If you're dealing with stress, anxiety, depression or anything that you're not able to process alone then take the leap and give therapy a try. I promise there will be a net to catch you!
---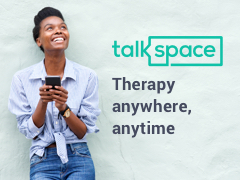 Takes most insurance companies
Flexible plan to meet your needs
Switch therapists at no cost
Individual, couples and teen therapy offered
Insurance reimbursement offered
Activity plans, worksheets and journals offered online
Messaging any time
Yoga videos for meditation
---
Are you interested in trying chamomile to help with your anxiety? Or maybe you already have!
Let me know in the comments.
I hope you enjoy learning about the products we recommend! Just so you know, as an Amazon, Talkspace and Online Therapy affiliate, I will earn a small commission from qualifying purchases and you'll get a great product! See my disclosure page for more details.
Remember to always be brave in trying new things!
Until next time,
Haley | Creator of Haley's Kitchen
---
All content was created using Canva Pro.